ChimerMarker® software, automated chimerism analysis software, integrates speed and accuracy with a biologist-friendly interface. The software can be used to monitor chimerism level in both allogeneic stem cells transplant (SCT) or hematopoietic stem cells transplant (HSCT), bone marrow transplant (BMT, post bone marrow engraftment), and cord and peripheral blood stem cells transplant (PBSCT) samples. The program provides accurate, rapid genotyping and chimerism analysis; automatically identifies donor and recipient peaks in post-BMT samples, calculates percent chimerism and quality metrics for single donor or double donor cases, easily appends for longitudinal monitoring post-BMT, and has multi-lineage capabilities for chimerism analysis of T-cells, B-cells, and other cell type populations. ChimerMarker software includes functions for comparison of samples at different time points to conduct longitudinal studies for monitoring each individual and a comprehensive chimerism analysis report. The chimerism analysis performs repetitive calculations (using published methods. Dr. Don Kristt). ChimerMarker software also has a linked maternal cell contamination (MCC) application. ChimerMarker software is compatible with ABI®PRISM, Applied Biosystems® SeqStudio, Beckman-CEQ™, and MegaBACE® genetic analyzers, and custom primers or commercially available human identification chemistries for STR genotyping (including Identifiler®, GlobalFiler™ 6-Dye™, PowerPlex®16, PowerPlex®ESI, GenePrint® 24, PowerPlex®Fusion 5 and 6 Dye, Investigator®24Plex). Chimerism analysis is completely linked to the main analysis screen, removing the error-prone step of data transfer from genotyping software to chimerism analysis software.
Click here to read "Analytic Approach for Complete and Mixed Engraftment Analysis using Commercial Software", presented at Applied Molecular Pathology meetings 2016 by Lea F Surrey MD, Jennifer R Smith BA, Daniel Lubin MD, Vivianna M. Van Deerlin MD PhD, and Christopher D Watt MD PhD.
85% faster analysis, read paper.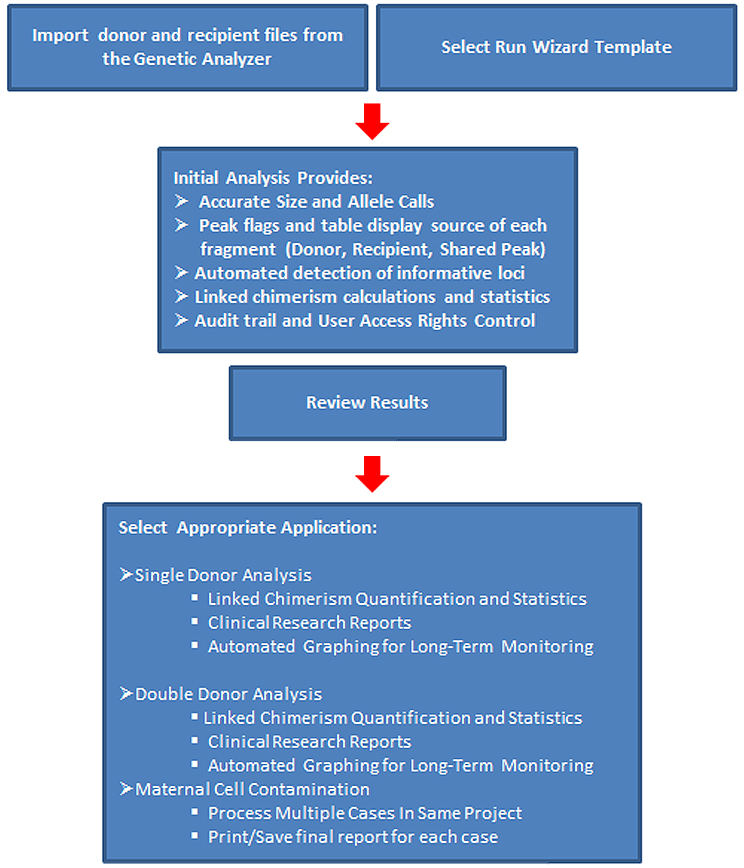 *Time study reported by Franciscan Alliance, St. Francis Health, Indianapolis, IN
Review Our Introductory Chimerism, Double Donor Chimerism and Maternal Cell Contamination Analysis Webinars
Download/View ChimerMarker® Software Brochure
Application Notes:
ChimerMarker® Software for Automated Analysis, Chimerism Detection, Quantification
and Monitoring from Short Tandem Repeat (STR) DNA in Post-Transplant Samples App Note (PDF)
Automated Chimerism Analysis Using ChimerMarker® Software: A Concordance Study (PDF)
Complete Chimerism Detection, Quantification and Analysis in one program
Trademarks property of their respective owners
Research use only (RUO)