SNP/INDEL Detection of Next Generation Sequence (NGS) Reads
Next Generation Sequencing has made it possible to rapidly examine individual genomes and compare genetic sequences across multiple genomes to detect variants. NextGENe® software has been developed specifically for use by biologists performing whole genome sequencing (WGS), whole exome sequencing (WES), or targeted resequencing projects containing single nucleotide polymorphisms (SNPs), Insertions/deletions (INDELS), and large structural DNA rearrangements from Next Generation Sequencing data produced by Illumina® platforms, Roche 454/GS FLX, FLX Titanium & Junior, Life Technologies SOLiD System and the Ion Torrent PGM and Proton systems. NextGENe software combines patented algorithms and analysis tools designed to run on a Windows® operating system, eliminating the need for scripting and other bioinformatics support needed in programs such as CLC Bio, Lasergene, NGEN, MAQ, SOAP, Top Hat, BWA, and Bowtie. In addition to powerful analysis tools, NextGENe offers automated and advanced creation of custom reports and quality metrics as well as a biologist friendly annotated whole genome browser/viewer for review, filtering, editing, and commenting.
Instrument specific SNP/INDEL analysis:
Illumina, Roche and SOLiD System Analysis
Ion Torrent Sequencing Platforms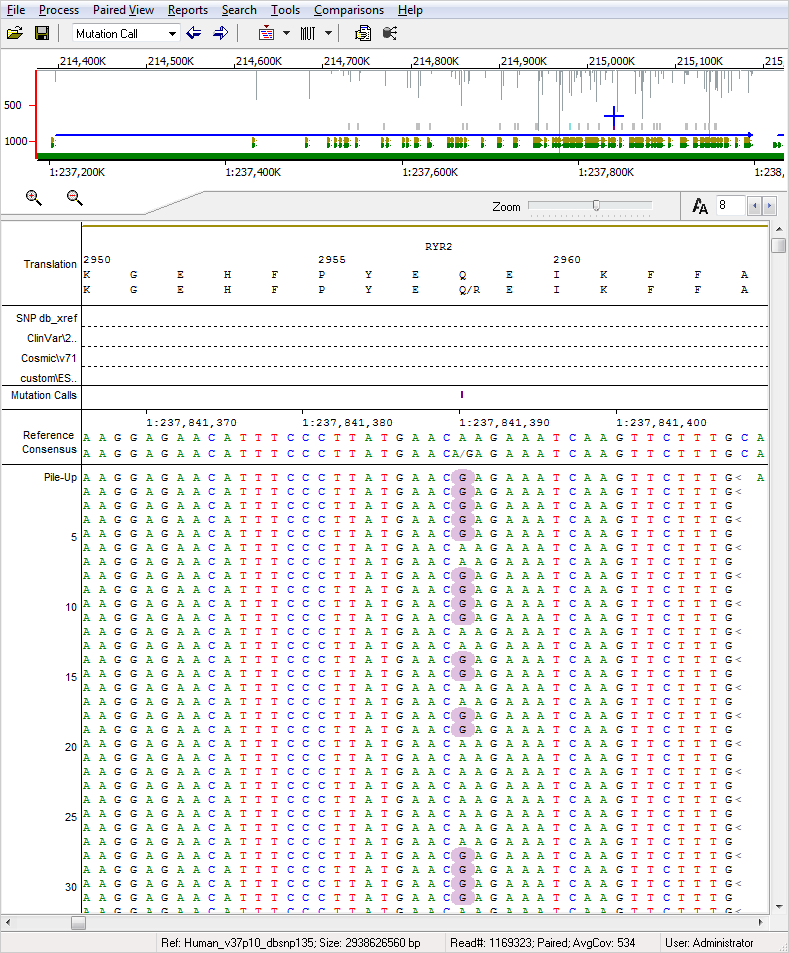 Figure 1: NextGENe Viewer displaying a SNP with purple background.
NextGENe features up to 99% accuracy, INDEL detection up to 33% read length, and rapid review of DNA variants, nucleotides, and amino acids. Alignment and variant detection can be completed using a whole genome reference or targeted regions using GenBank or fasta files. Upon completion of a sequence alignment project, interactive mutation reports are automatically generated providing detailed variant and annotation information. Reports also include a host of filtering options, variant confidence scoring, multiple analysis comparison capabilities, hyperlinks to dbSNP and COSMIC, and additional tracks with causative prediction through the dbNSFP, NHLBI GO Exome Sequencing Project (ESP), and custom databases.


Figure 2: Mutation report with custom track information, including COSMIC, 1000 Genomes, and dbNSFP.
Database information can easily be imported in NextGENe software. Updated dbSNP information is included in the human genome reference provided by SoftGenetics as well as select GenBank files downloaded from NCBI, providing hyperlinked access from the mutation report. Additionally, NextGENe's Track Manager Tool enables users to quickly import the most recent data from dbNSFP, COSMIC, or custom databases in a format that NextGENe can use for alignment projects. NextGENe 2.3.4 and above has expanded upon database features, providing inclusion and visualization of custom, COSMIC, and NHLBI GO Exome Sequencing Project (ESP) databases as well as compatibility with dbNSFP 2.0, for predictions including PolyPhen2, LRT, Mutation Taster, Mutation Assessor, GERP, PhyloP, 1000 Genomes, and more.
NextGENe version 2.3.4 and above also has an enhanced processing optimization providing 60% faster processing time then prior versions and has added automated "pipeline" with Geneticist Assistant™ NGS Interpretative Workbench. NextGENe software users now have the capability of creating an automatic link between NextGENe and Geneticist Assistant Workbench, creating a seamless Analysis/QC/Variant Interpretation/Reporting pipeline.
Performance Examples on various datasets using NextGENe Software: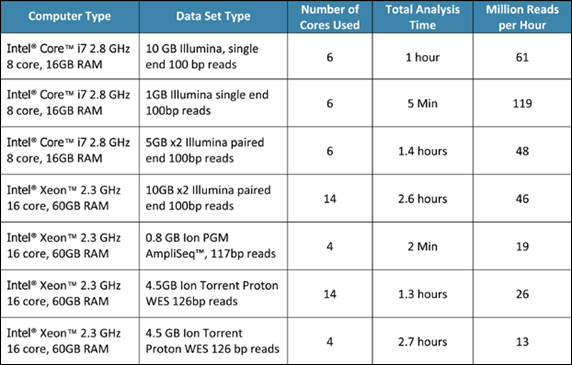 For More Information Review or Download Application notes:
Working with Circular Reference Sequences in NextGENe® Software
NextGENe® Software Analysis of Solid Tumors and Hematological Cancers Using RainDance ThunderBolts™ NGS Panels
Webinar:
Analysis of Raindance Thunderbolts Panel Data with NextGENe Software (View) (view on

)
Pricing & Trial Version:
Request 30-day trial/Price Quote
Reference Material:
Download/View NextGENe® Brochure
NextGENe User Manual
Annotated Reference Genomes
Trademarks property of their respective owners